An Online Guide to
Southwestern Bell Bricktown Ballpark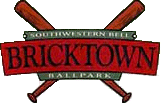 Oklahoma City made one of its smartest moves ever when they voted to build a new downtown ballpark to open in 1998. Southwestern Bell Bricktown Ballpark, or "The Brick," is one of the premier stadiums in the Great Plains. This gem houses the Pacific Coast League's Oklahoma RedHawks, the AAA farm club of the Texas Rangers. Choose one of the sections above to learn more about The Brick, and if there's anything you want to know that you can't find on the site, just e-mail me and I'll do my best to find the answer. Just driving by on I-40 and seeing it is breathtaking, but attending a game is incredible. It's definitely worth your time if you're in the OKC metro area to come by and take a look.
---
I apologize ahead of time for all the pop-up windows, especially in the pictures and seating chart. They're a real pain, but they keep the site alive and I don't really have an alternative.
---
Check out the RedHawks' 2000 schedule. The 2000 season is under way! The Oklahoma RedHawks started things off with an exciting 3-2 victory over the Albuquerque Dukes. New manager DeMarlo Hale leads a talented group of players as they set their sights for the majors. The Hawks have a good shot at repeating their PCL American Conference title, and maybe even winning the AAA World Series. It's gonna be a great year!
---
"The most beautiful thing in the world is a ball park filled with people."
- Bill Veeck, former White Sox owner
---
April updates


Opening day! (4/7): The Hawks begin the 2000 season and I've got the score. Also added the new major league ballparks to the MLB Ballpark Directory.
Things I'm working on: history of the Oklahoma RedHawks, JavaScript menu.
Send suggestions for site additions to BrettHOF@aol.com.
---
What you'll find in the sections
• General Info - Various facts, such as the opening date, cost, etc., a little history, and when you can catch a game
• Pictures - Pics, inside and out, of The Brick
• Seating Chart - Find where your seats are, and see what the view from your section looks like.
• Links - Links to websites that helped me out with this one, or have info on The Brick
• MLB Ballpark Directory - The names, seating capacities, and opening years of all the Major League Ballparks

---
No Music
Music
Sign the Guestbook
Please let me know of any broken links or images. Thanks.
Questions? Comments? Send them to BrettHOF@aol.com